Freya Swim styles are 'anything but matronly' as Her Room has put it. This swimwear line is made by the same company who makes Fantasie and Elomi.
Their large cup size swimwear is very flirty and fashion forward styles.
They tend to come in cup sizes up to GG to H, but they usually come up with a few lines each year that include styles that cup up to J.
Do not think you would have to be rail thin to look great in Freya swimwear! Check out this, and other Freya Swim videos and you will see it's just not true!
This is the Freya Swim SS17 Photoshoot video, which shows this year's styles better than the styles below.
Sorry about not getting around to updating this site so far... Don't wait for me, Enjoy the Swimwear! Its available at Her Room and Bare Necessities whose links are to your right.
2016 Freya Swimwear Collections
I normally post the new swimwear collections as they come up, rather than give them a space on this page.
10/13/16 Update: This is just a picture of Freya's Tribal Trax underwire bikini top, now on sale for $49.95, but in limited sizes at Her Room.
Her Room often has last year's collections, such as
Freya's Floral Pop swimwear
and others on sale, which can be nice. One reason to browse by our bra and or swimwear sizes!
Come back once a week, or browse the stores in the right column here's New Arrival in DD+ swimwear sections to view the newest as they become available!
Freya Swimwear Collections that come out in New Colors
These are some of their few, standard swimwear lines that come in new colors most years.
Freya's Spirit underwire bikini tops, and swim separates, in their Flame color is a fine example of the strong color saturation we can also find in prints by Freya!
10/13/16 Update: This style is currently
on sale in 3 of its 4 colors. It comes in the 30 to 36D to GG and 38D to G size range
at Her Room!
Freya AS3902 Spirit Underwire Sweetheart B...
Freya Spirit Underwire Sweetheart Bikini Swim Top (AS3902). A subtle crochet-look gives...
[More]
Price: $68.00
Sale: $54.95
This is
a picture of Freya Remix Deco Underwire Molded Bikini Top
you can find it in sizes
28D to G, 30 to 36D GG and 38D to G
at Her Room.
They also have the aquamarine and black versions of this as well
Freya's Deco
Bikini bottoms and underwire tankini tops. Just scroll down and look to your right to view those at Her Room too.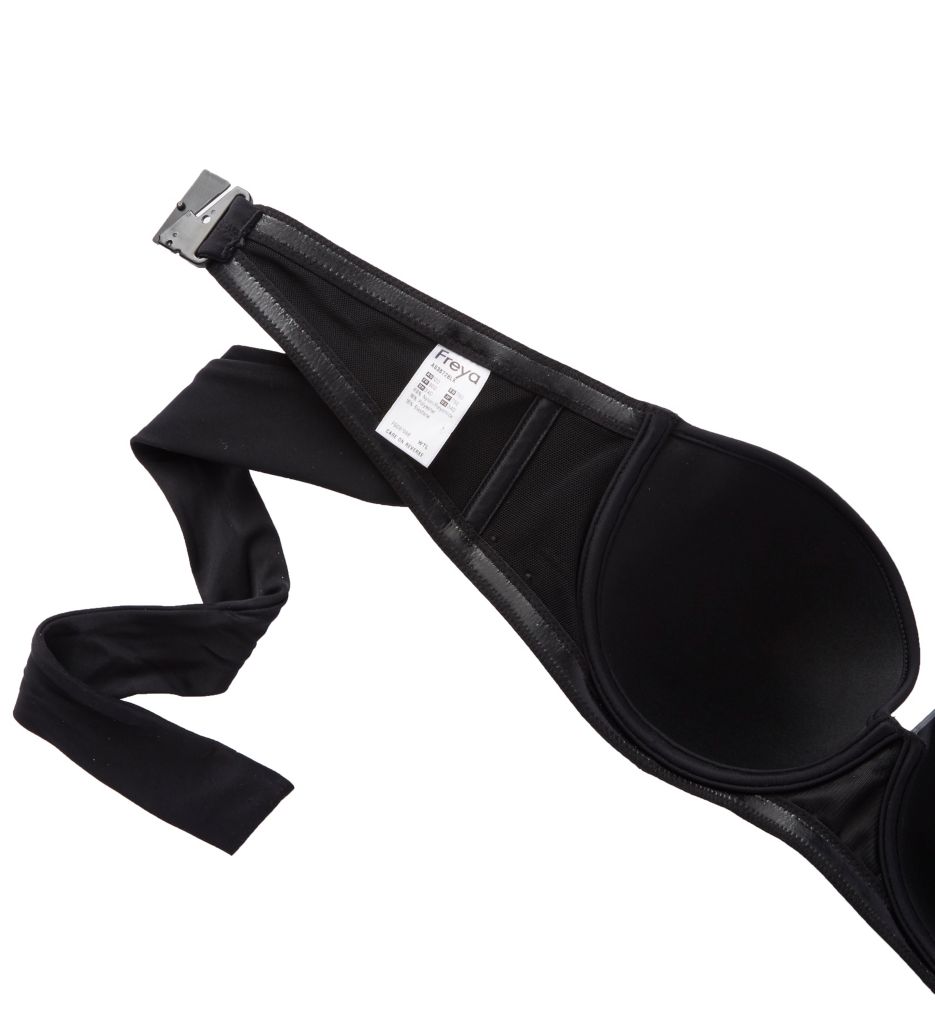 10/13/16: Freya's
In the Mix swimwear line's is on sale at Her Room
. They have this and another bikini top in this collection as well as the tankini top in it too.
You will find the rest of this swimwear line at Her Room on the right side of their pages and down a bit.
Freya Support and Sizes
Freya is just as likely underwire support swim tops now. They used to have some soft cup, yet full bust, tankini tops every year, but they seem to have few of these in recent years...
I still find Freya Swimwear in sizes 28D to H, 30 to 38C to JJ and 40C to H in their Active, (think sports), one piece swimsuits.

You can usually find balcony and some full cup bikini tops, tankini and one piece swimwear style by Freya.
For whatever it is worth, after checking out most of these brands mentioned here for years, I feel Freya has the cutest and most unique bikini bottoms, and in recent years swim skirts too!
Stores that Carry Freya Swimwear
Bravissimo, Bare Necessities, Her Room, Bigger Bras and Figleaves all carry DD+ swimwear by Freya.
Amazon Also carries Freya!
You can find links to these stores near the top of this blog's right column.
Last Update: 10/13/2016
Anne Hunter
Please feel free to comment here about this or other full bust swimwear or bra style issues, concerns and ideas.
Thank you!